Airport to city center Transfer*
7 - 24 seats
€ 150
28 - 40 seats
€ 190
50 - 56 seats
€ 230
64 - 84 seats
from € 350
Half day in Genoa*
7 - 24 seats
€ 330
28 - 40 seats
€ 350
50 - 56 seats
€ 390
64 - 84 seats
from € 470
Full day in Genoa*
7 - 24 seats
€ 420
28 - 40 seats
€ 450
50 - 56 seats
€ 500
64 - 84 seats
from € 600
Multi-day Tour**
7 - 24 seats
€ 370
28 - 40 seats
€ 390
50 - 56 seats
€ 440
64 - 84 seats
from € 650
These quotes may change.
*Checkpoint not included
**Price per day (max 200 km/day)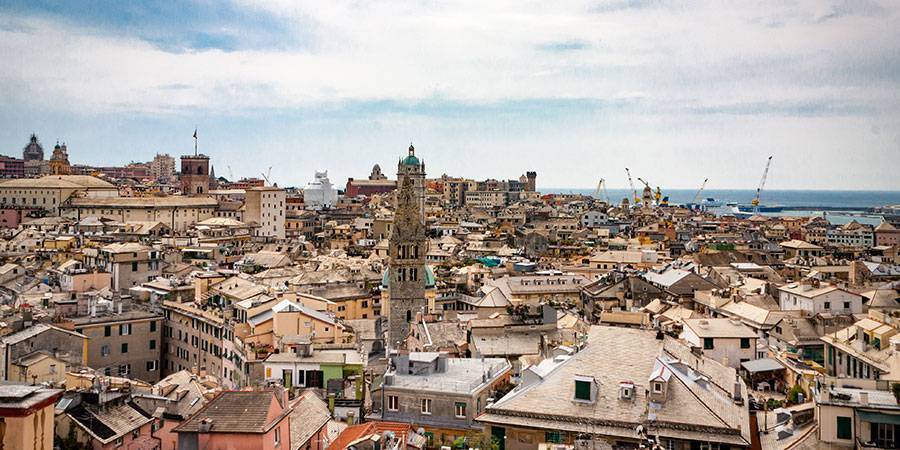 TOUR 1
DAY 1: Transfer from the airport to the hotel, located in Genoa or in the surrounding area
DAY 2: Visit to the city – Old Town, Doge's Palace, Metropolitan Cathedral of Saint Lawrence, Museo del Tesoro
DAY 3: Visit to La Spezia – Castle of San Giorgio, Abbey church of Santa Maria Assunta, Ubaldo Formentini Civic Museum, Technical Naval Museum, Museo del Sigillo, Amedeo Lia Museum, Piazza Verde, Cristo Re dei Secoli cathedral; and visit to Porto Venere – Doria Castle, Chiesa di San Pietro
DAY 4: Visit to Santa Maria Ligure, Portofino and Camogli
DAY 5: Transfer from the hotel to the airport
TOUR 2
DAY 1: Transfer from the airport to the hotel, located in Genoa or in the surrounding area
DAY 2: Visit to the city – Old Town, Doge's Palace, Metropolitan Cathedral of Saint Lawrence, Museo del Tesoro
DAY 3: Trip to Cinque Terre – Monterosso, Vernazza, Corniglia, Manarola, Riomaggiore
DAY 4: Visit to the near Turin – Palazzo Madama e Casaforte degli Acaja, Royal Church of Saint Lawrence, Egyptian Museum, Via Garibaldi, Piazza Castello, Palazzo Carignano, Piazza Carlo Alberto, etc.
DAY 5: Visit to the near Milan – Milan Cathedral, Pinacoteca di Brera, Santa Maria delle Grazie, Castello Sforzesco, etc.
DAY 6: Transfer from the hotel to the airport
Which bus is the best for your trip?
Get a free quote for a bus rental. Hop aboard now! Travel on minibuses, midibuses, coach buses or double decker buses in Italy and Europe. Visit Rome, Naples, Venice, Milan, Florence, Turin, Genoa, Perugia, Bologna, Catania, Palermo, Cagliari and many other cities and experience Italy thanks to our Tours on comfortable and safe buses and minibuses. Book your journey to go to weddings, field trips, corporate events, sports events etc. with Harebus Rental, you will receive a quote via email as soon as possible and you will be ready to go! What are you waiting for? Fill the form and get started!