Airport to city center Transfer*
7 - 24 seats
€ 140
28 - 40 seats
€ 170
50 - 56 seats
€ 220
64 - 84 seats
from € 350
Half day in Cagliari*
7 - 24 seats
€ 290
28 - 40 seats
€ 340
50 - 56 seats
€ 390
64 - 84 seats
from € 480
Full day in Cagliari*
7 - 24 seats
€ 380
28 - 40 seats
€ 440
50 - 56 seats
€ 490
64 - 84 seats
from € 570
Multi-day Tour**
7 - 24 seats
€ 350
28 - 40 seats
€ 380
50 - 56 seats
€ 420
64 - 84 seats
from € 550
These quotes may change.
*Checkpoint not included
**Price per day (max 200 km/day)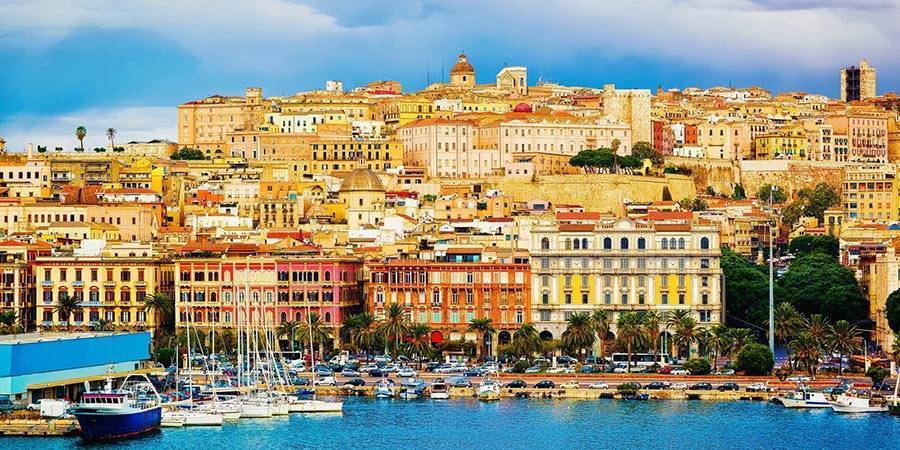 DAY 1: Transfer from the airport/port to the hotel, located in Cagliari or in the surrounding area
DAY 2: Visit to the city – Castello, Cathedral of Santa Maria, Cathedral of Santa Cecilia, National Archeological Museum of Cagliari and Citadel of Museums, Bastione di Saint Remy, Poetto Beach, Torre dell'Elefante
DAY 3: Visit to Nora – Archaeological site, thermal baths, Temple of Tanitthe; trip to Sant'Antioco – Phoenician and Punic necropolises, Palaeo-Christian Basilica of Sant'Antioco, Ferruccio Barreca Archaeological Museum, Tombe dei Giganti, Hypogeal village, etc.
DAY 4: Trip to Barumini (nuraghe) and the visit to Oristano – Cathedral, Church of St. Francis, The Tower of St. Christophoros.  Then trip to Archaeological area of Tharros and to Penisola di Sinis. Night in Oristano
DAY 5: Transfer to Alghero and visit to the city – Old Town, Cathedral, Museo del Corallo, Neptune's Grotto, Church of St. Michael, Church of Santa Barbara; then transfer to Sassari – Cathedral of St. Nicholas and its bell tower, Church of Sant'Antonio Abate, Teatro Civico and  Piazza Italia, Museo di Sanna, Fountain of the Rosello, Collegio dei Gesuiti
DAY 6: Transfer from the hotel to the airport
Which bus is the best for your trip?
Get a free quote for a bus rental. Hop aboard now! Travel on minibuses, midibuses, coach buses or double decker buses in Italy and Europe. Visit Rome, Naples, Venice, Milan, Florence, Turin, Genoa, Perugia, Bologna, Catania, Palermo, Cagliari and many other cities and experience Italy thanks to our Tours on comfortable and safe buses and minibuses. Book your journey to go to weddings, field trips, corporate events, sports events etc. with Harebus Rental, you will receive a quote via email as soon as possible and you will be ready to go! What are you waiting for? Fill the form and get started!